Having joined Geospatial Insight (GSI) in 2020 as a Full Stack Web Developer I have been utilising the Hexagon's portfolio, in particular M.App Enterprise, to create and maintain a number of Smart Apps for use by our clients. One application that I have been working on recently is MotionMonitor – tracking tailing dam displacement to indicate necessary maintenance and act as an early warning system for potential failure.
Prior to joining GSI, I had predominantly worked as a JavaScript developer before transitioning to a Web Development role in 2017. So the Hexagon portfolio posed a new challenge, however I quickly found my feet using M.App Enterprise thanks to its ease of use, and my background in JavaScript and TypeScript giving me a jumpstart to extracting the full potential of the software. The expert community support has also been extremely useful, receiving a rapid response for all types of queries, as well of course, as our established in house team whose experience of image processing and in particular Spatial Modeller has been invaluable.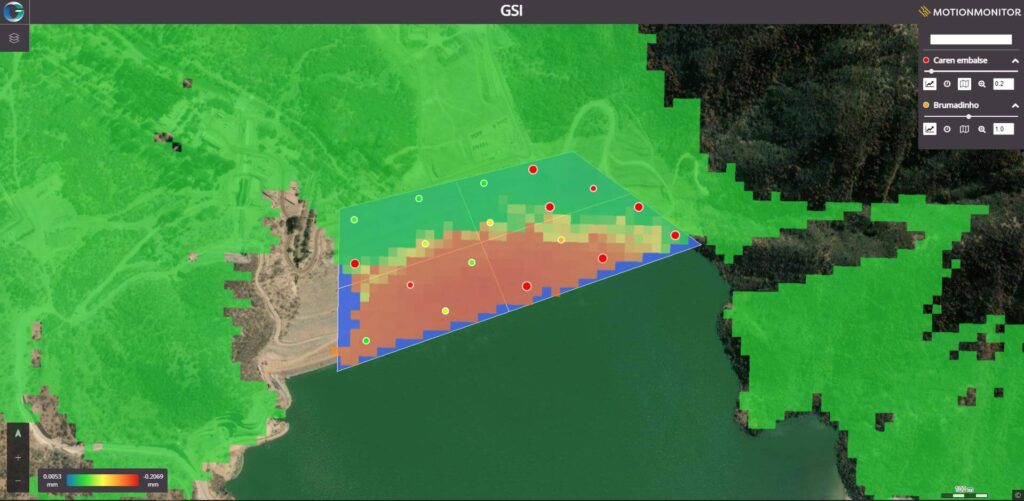 M.App Enterprise Dashboard for MotionMonitor
"...THE PLATFORM IS VERY POWERFUL AND YOU WILL QUICKLY LEARN HOW IT CAN CREATE A RICH WEB MAP EXPERIENCE."
M.App Enterprise is an extremely innovative piece of kit and developed specifically for app building, it's tools and features are highly adaptable. This means it can facilitate easy creation through its drag and drop templates or accommodate the development of more bespoke solutions. The IDE has a host of comprehensive facilities as standard including; map rendering, dashboard building and map application. This provides the user a good basis to start building, whilst the JavaScript platform input provides the opportunity to instantly visualise applications.
Finding innovative solutions to client-based needs using the M.App Enterprise suite, is the most rewarding part of my daily role. The 3D capability of the Javascript mapping library (LuciadRIA) is one of the most powerful visualisation tools that the platform offers. In conjunction with the LuciadFusion web mapping server, these tools allow for dynamic point-cloud and 3D tiling of data.
I have been predominantly working with OpenLayers library, but the M.App Enterprise suite has given me the opportunity to learn a new web mapping library and use different techniques for visualisation. In the future I am planning on working increasingly with the Luciad Fusions API functionality, with the goal to automate more processes to increase the ease of use for the client and minimise the risk of human error.
If I had to give advice for anyone contemplating M.App Enterprise to realise their vision, it would be to be patient but get stuck in – the platform is very powerful and you will quickly learn how it can create a very rich web map experience.