With two tropical storms already under this season's belt, how many more are expected to form over the next five months? The National Oceanic and Atmospheric Administration (NOAA) have forecasted a 60% chance of an above-average season and a 30% chance of a normal season but are not expecting to see the record-breaking number of storms we saw in 2020.
An 'average' season is expected to have around 14 named storms, with 7 becoming hurricanes and 3 becoming major hurricanes. With warmer oceans and weaker trade winds across the Atlantic, NOAA have predicted another active season with 13-20 named storms, 6-10 becoming hurricanes and 3-5 becoming major hurricanes. The La Nina weather phenomenon contributed heavily to hurricane development in 2020, and with El Nino Southern Oscillation (ENSO) currently neutral, this has led experts to predict fewer storms this year but are prepared for this all to change if the La Nina returns later in the season.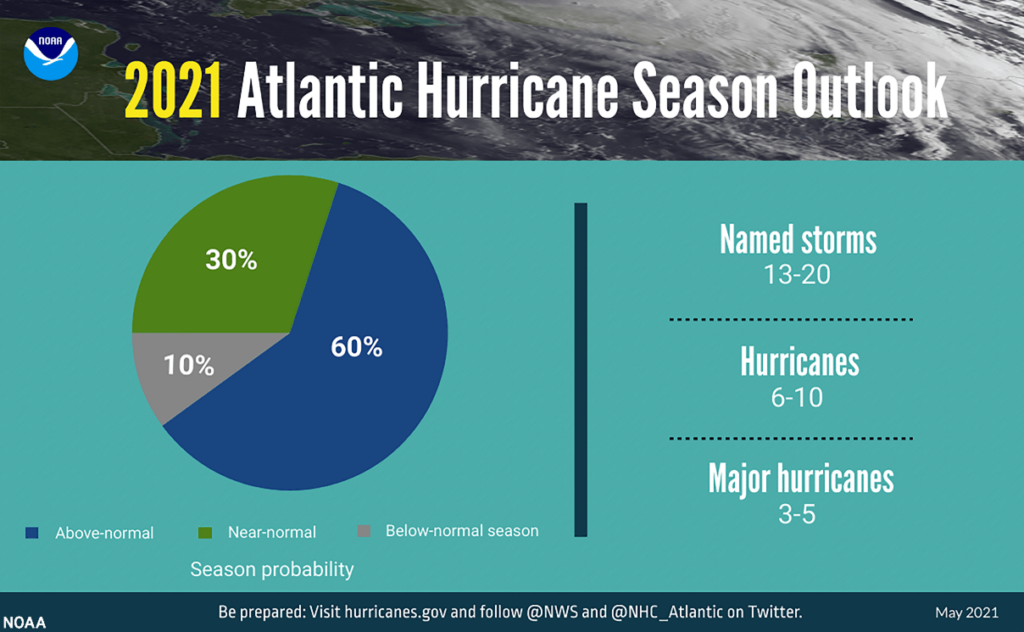 Colorado State University (CSU) initial prediction release, in April, had forecasted 17 named storms, 8 hurricanes and 4 major hurricanes. In June, this forecast was updated to include sub-tropical storm Ana resulting in 18 named storms, 8 hurricanes and 4 major hurricanes, with Category 3 or stronger winds. The CSU team base their forecasts on a number of variables including sea surface temperatures, sea level pressures and wind and have also named the absence of the La Nina as the primary factor for a lower prediction in storm activity compared to 2021.
With the devastation caused from last year's record-breaking hurricane season, see our Is 'above-average' becoming the new normal? article for our season review, it is important to be prepared for the unpredictability of this weather season. Our (RE)ACT on-demand CAT response service is available to track any storm 24/7 365, utilising artificial intelligence combined with imagery captured from over 600 satellites, and a unique international network of drone and aerial operators on every continent to rapidly analyse and deliver damage evidence as within 72 hours of instruction. Visit the RE(ACT) product page for more information or to request a demo to ensure you are fully prepared for the oncoming season.
To support our clients to RE(ACT) to these events as quickly as possible Geospatial Insight will also publish a weekly RE(ACT) watch round up on our LinkedIn and Twitter channels, covering active storms, the path and potential impact of these storms. Follow us to see how the season develops.