M.App Enterprise 2023 was released towards the end of last year and featured significant improvements to the platform including many new features. Apart from a completely updated design, the process of creating applications was streamlined and the reconfigured dashboard provided more intuitive options and workflows. One of the key changes was the tighter integration of Hexagon's LuciadRIA, which provides more tools for building browser-based geospatial applications.
Since the initial release numerous technological enhancements have been implemented. A completely revamped coordinate system framework is now in place. Users can also benefit from a new browser measurement tool for the 3D environment and a browser scale indicator, but the true augmentation lies behind the scenes. Browser-based applications now support ECWP, facilitating quicker raster streaming. The Style Editor can now retrieve external graphics from a database too. On the management front, new login methods have been introduced, encompassing multiple Active Directory on-premise domains, along with security updates. At a higher level, the Management Tools now offer increased functionality for visualising usage.
M.App Enterprise serves as the foundation for many of our cloud-based services, including the LOCATE portfolio and MOTIONMONITOR. Version 2023 has significantly enhanced our ability to further develop these applications and specifically has enabled more efficient customisation of applications to meet diverse use cases and cater to differing clients' requirements. The latest features, some of which were driven by specific requests from Geospatial Insight, facilitate the creation of clone workspaces, simplify the duplication of style sets and legends, and introduce other adjustments that greatly speed up the implementation of new applications. This functionality is particularly advantageous when it's necessary to rapidly adapt applications for clients working in time critical environments.
One recent application of MOTIONMONITOR was the visualisation and analytics of ground movement of a number of reservoir dams in Libya to evaluate whether there were signs of potential collapse due to the impact torrential rains that, elsewhere in Libya, led to dam failure and the subsequent devasting flooding of Derna. MOTIONMONITOR, based on M.App Enterprise, provided the client to with a means to rapidly assess the integrity of the dam structures, and share those results with other critical stakeholders as an invaluable tool for pre-emptive analysis of potential risk.
The ground movement analysis was undertaken by applying the unique APSIS InSAR (Interferometric SAR) methodology to a stack of a 100 Sentinel-1 images to identify high risk zones, and then apply further analytical tools to identify any acceleration in the rate of change of surface movement to highlight potential risk zones and assess the degree of risk. The investigation was undertaken on several dam sites in Libya. In all cases three sections of each dam were analysed, the dam wall, top of the dam and behind the dam, as well as surrounding slopes.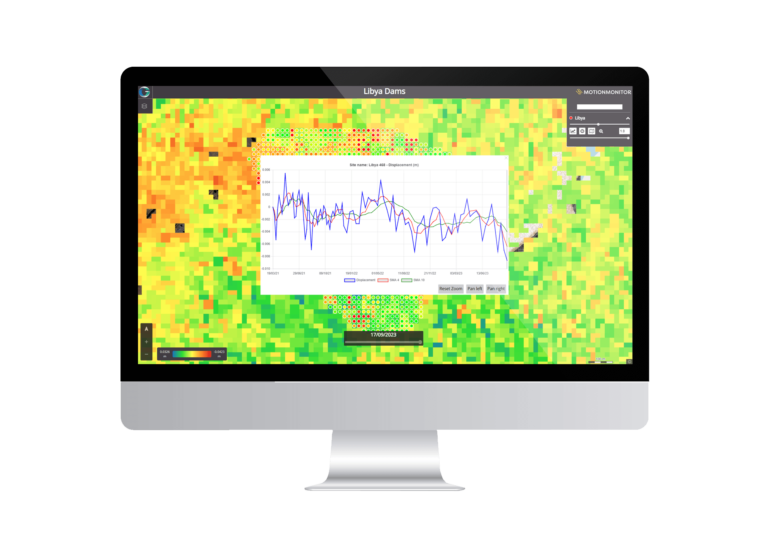 The results of the analysis revealed that, in one case, although movement of the dam structure was evident, it appeared to be seasonal deformation with no clear signs of the dam approaching a failure point. However, sections of another, larger dam, as well as showing the same signs of seasonal movements, also showed early indications of potential stability issues based on observed deformation. This indicated that further post event analysis is required to investigate the stability of the dam in more detail.
By delivering the results within MOTIONMONITOR the client has been able to interrogate the data and identify areas for further investigation, and it has also clearly demonstrated the benefits of M.App Enterprise as an effective and efficient mechanism for the delivery of complex data in an easy to visualise and  intuitive format.
For more information on M.App Enterprise visit our website or contact us to discuss your application with one of our technical specialists.