Make the most of your data, the possibilities are endless.
The Hexagon Power Portfolio and Hexagon M.App Enterprise provide leading edge technologies to build powerful desktop solutions and create innovative cloud-based applications.
From transforming raw geospatial data into useable information to designing, developing and delivering lightweight targeted applications, Hexagon provides all the tools needed to solve specific business problems.
What can Power Portfolio 2022 do for you?
Process and fuse aerial, satellite and UAV data on the fly
Extract business knowledge from the industry's widest selection of data sources in real time
Configure business workflows quickly and effectively
Fuse content, analytics and workflows into a dynamic user experience through powerful visualisations
Communicate timely and accurate information to decision makers in an intuitive dashboard
The Spatial Modeler, found within ERDAS IMAGINE, GeoMedia and M.App Enterprise, is an intuitive, dynamic, and powerful graphical modeler that can be used to create both simple and highly complex geospatial workflows.
It provides flexibility to capture domain expertise and turn it into re-usable algorithms and can be used by non-programmers and programmers alike who wish to create and distribute analytical routines.
Hexagon
As a Platinum Partner of Hexagon Geospatial, we not only distribute their leading-edge technologies across the UK, but also encourage its use internally – building powerful solutions and creating innovative applications both in the cloud and on desktop.
Read More »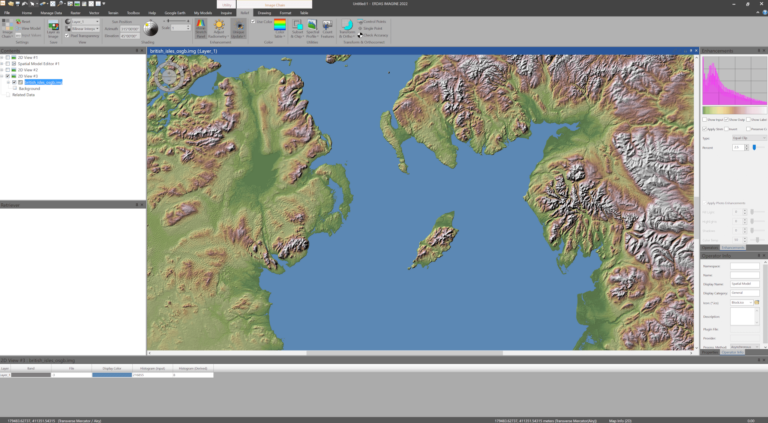 Hexagon
ERDAS IMAGINE 2022 is now a couple of months old so it's a good time to have a look at what's new in this major release.
Read More »
Hexagon
If you are looking for the best ERDAS IMAGINE training in the UK then you should come to Geospatial Insight. Our trainers' extensive wealth of technical knowledge is gained from over 30 years' experience delivering ERDAS IMAGINE training courses worldwide, providing technical support to the UK Hexagon Geospatial community, and using the software in anger every day to integrate image processing into the services we provide our clients across a multitude of sectors. These include insurance, finance, defence, government, disaster relief and engineering, giving Johnnie and Emily, the only certified ERDAS IMAGINE trainers in the UK, a wealth of experience in applications as well as technical wizardry. This, combined with their strong desire to share their knowledge to help users gain the most from their investment in both software and data, means our training courses continue to offer flexible, sustainable and tailored solutions to meet the requirements of all trainees.
Read More »