Designed specifically for geospatial professionals
CONTOUR is the world-leading glasses-free stereoscopic 3D Monitor, delivering bright, consistent stereoscopic HD images. Designed by Vision Engineering, this 3D screen is revolutionising the way geospatial professionals can visualise and interact with geospatial data.
CONTOUR is the next generation of 3D stereo vision viewing, delivering high quality image clarity and brightness. By removing the need for polarised glasses, it enhances ease of use and operator comfort without compromising on its high definition and end-to-end image sharpness.
Delivering 4 million pixels on a precision mirror, the CONTOUR stereoscopic 3D Monitor projects two independent images to the user's eyes, so each eye sees the subject from a slightly different angle. This process delivers crisp stereo vision and depth perception in a natural and efficient stereoscopic visualisation. 
Glasses-free operation for user comfort
High quality, bright, glare-free 3D/FHD image
No cross-talk, ghosting or flickering
Superb depth perception, even on featureless terrain
Edge-to edge image sharpness
Simple to set-up and start using
Modular, maintenance-free operation
Deployable into operational environments with minimal set-up 
The CONTOUR 3D screen is compatible with most stereo feature extraction geospatial software, including those in the Hexagon Geospatial Power Portfolio range. As a Platinum Partner of Hexagon Geospatial, a unified solution can be developed for your specific requirements.
The integration of the CONTOUR stereoscopic 3D monitor with Hexagon Geospatial world leading technologies allows users to analyse, and extract information and intelligence from stereo geospatial imagery.
Case Studies
With an ever-increasing need for timely data and geographical understanding, governments and businesses worldwide continue to direct resources to obtain, use and understand geospatial data that directly supports informed decision-making.
Read More »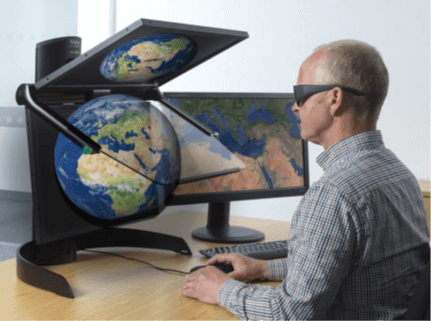 Home Featured
In an increasingly virtual world, it is no surprise that the advancement of stereo visualisation is developing at an unprecedented rate. Within the geospatial community,
Read More »
Hexagon
Having recently joined Geospatial Insight, I was thrilled with the opportunity to attend Hexagon Live 2022 in Las Vegas. Coming from a Defence background, I have witnessed first-hand how advancements in data capture, GIS, remote sensing, and other related technologies have directly contributed to situational awareness and decision-making throughout all levels of hierarchy.
Read More »