Designed specifically for geospatial professionals
CONTOUR is the world-leading glasses-free stereoscopic 3D Monitor, delivering bright, consistent stereoscopic HD images. Designed by Vision Engineering, this 3D screen is revolutionising the way geospatial professionals can visualise and interact with geospatial data.
CONTOUR is the next generation of 3D stereo vision viewing, delivering high quality image clarity and brightness. By removing the need for polarised glasses, it enhances ease of use and operator comfort without compromising on its high definition and end-to-end image sharpness.
Delivering 4 million pixels on a precision mirror, the CONTOUR stereoscopic 3D Monitor projects two independent images to the user's eyes, so each eye sees the subject from a slightly different angle. This process delivers crisp stereo vision and depth perception in a natural and efficient stereoscopic visualisation. 
Glasses-free operation for user comfort
High quality, bright, glare-free 3D/FHD image
No cross-talk, ghosting or flickering
Superb depth perception, even on featureless terrain
Edge-to edge image sharpness
Simple to set-up and start using
Modular, maintenance-free operation
Deployable into operational environments with minimal set-up 
The CONTOUR 3D screen is compatible with most stereo feature extraction geospatial software, including those in the Hexagon Geospatial Power Portfolio range. As a Platinum Partner of Hexagon Geospatial, a unified solution can be developed for your specific requirements.
The integration of the CONTOUR stereoscopic 3D monitor with Hexagon Geospatial world leading technologies allows users to analyse, and extract information and intelligence from stereo geospatial imagery.
Hexagon
As a Platinum Partner of Hexagon Geospatial, we not only distribute their leading-edge technologies across the UK, but also encourage its use internally – building powerful solutions and creating innovative applications both in the cloud and on desktop.
Read More »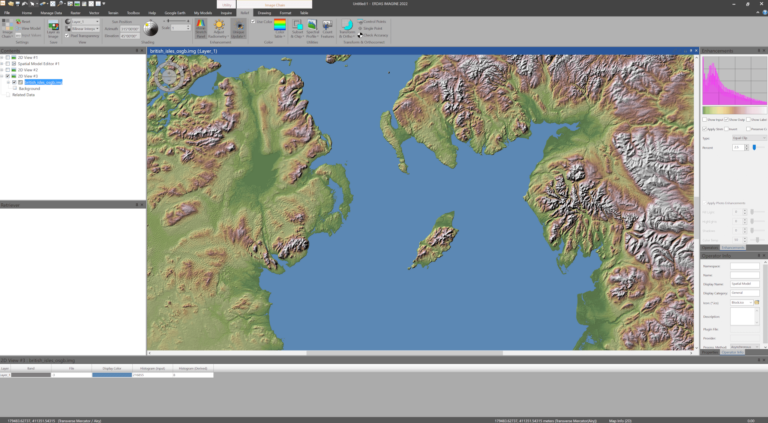 Hexagon
ERDAS IMAGINE 2022 is now a couple of months old so it's a good time to have a look at what's new in this major release.
Read More »
Hexagon
If you are looking for the best ERDAS IMAGINE training in the UK then you should come to Geospatial Insight. Our trainers' extensive wealth of technical knowledge is gained from over 30 years' experience delivering ERDAS IMAGINE training courses worldwide, providing technical support to the UK Hexagon Geospatial community, and using the software in anger every day to integrate image processing into the services we provide our clients across a multitude of sectors. These include insurance, finance, defence, government, disaster relief and engineering, giving Johnnie and Emily, the only certified ERDAS IMAGINE trainers in the UK, a wealth of experience in applications as well as technical wizardry. This, combined with their strong desire to share their knowledge to help users gain the most from their investment in both software and data, means our training courses continue to offer flexible, sustainable and tailored solutions to meet the requirements of all trainees.
Read More »